A magical experience of serenity and transformation. We will Let Go, we will Be Present. We will live and start a New Cycle. Transformation. Through yoga, meditation, workshops, dance, a community and delicious food, you will be empowered to design your journey and learn how to use toga to live a more balanced, connected, and authentic life.

Will you join us?
This myalfazema experience is for everyone who wants to take a break, reflect, and develop their relationship with Yoga, meditation and nature.
*Lokah Samastah Sukhino Bhavantu*
May all beings everywhere be happy and free, and may the thoughts, words, and actions of my own life contribute in some way to that happiness and to that freedom for all.
Freedom to be or not to be. It is your call to decide in which activities you want to participate
Rita
2021
I went to stop, think, decide!And what a good decision is was go, alone and committed to my purpose! The extraordinary Diana, the diversity of the group, Leonor's joviality and the maturity and empathy created with Alex, drove the change I was looking for and could not find the way. After all, the way and the way out to put an end to my anguish and anxiety were within my reach and only depended on me! A simple answer was the key to appeasing my pain! "Let Go, Let Go, Let Go". Give it time, let it flow and the answers will come. And it was the fundamental that I brought from the retreat!Thank you for everything!
Safira
2022
I couldn't have chosen a better way to start 2022 than with the myalfazema yoga retreat new cycle! The holistic teachings I learned from this weekend will accompany me through all the cycles of my life! Thanks. THANK YOU from the bottom of my heart 💓 😘
Joana
2022
The yoga practices, the meals, the location and all the decoration details reflect the love that Leonor, Diana and Alexandra put into the preparation of this weekend! Thank you for everything, it was extraordinary
Maria
2022
The myalfazema Retreat has taught me a lot. Mainly dealing with the difficult things in life and feeling gratitude for them. Diana's classes on Yoga Philosophy led me to completely change the way I think and see more positive things. I will think more about myself and treat myself well because only when we are well can we help others. The group was amazing and had wonderful energy! I felt at home from the first minute! The food was wonderful I never thought vegan food could be so good and creative!
Isabel
2022
This myalfazema retreat exceeded all my expectations: practices, teachings and wonderful and very brave people! Thank you 🙏
Johana
2022
Thank you, myalfazema! There were 3 days in which I felt immense freedom, joy, peace, tranquility and a lot of love. I came back light and ready for this new cycle ❤️🙏
Rosa
2022
Gratitude, myalfazema and Diana.I think it's all been said, and words won't be enough to express the privilege of having lived these days. The heart returned full.Thank you thank you . Big kiss to all 💚💚
Joana
2021
This was my first retreat experience and it couldn't have been better. It was a wonderful experience that I will want to repeat.
Ritah
2020
Everything was excellent: your dedication, the yoga practice, the location, the food and the group. This weekend goes into my treasure chest 😍
Gabriela
2020
It was a pleasure and an asset for me.
Diana was born in Porto, Portugal, and has a strong background in creative and wellbeing activities.
She's an architect & designer, certified yoga & meditation teacher, and owner of an innovative, cultural, and wellbeing studio in the south of Portugal.
Having practiced for over 16 years and graduated in Hatha & Ashtanga Yoga in the "yoga capital" Rishikesh (India), she's been teaching back in India, the UK, France, and Portugal for 9 years now.
Diana fell in love with Yoga from the very beginning but it was after an injury while strengthening and balancing the mind & body with the help of Yoga, that the practice has transformed her on so many levels - she feels a strong sense of responsibility to share it, which initially inspired and continues to inspire her to teach.


Her main principle is that Yoga is not only a physical practice but a spiritual one where the practitioner dives deep into the study of the Self and learns to attain a higher level of consciousness.
"Yoga is not only a physical practice but a spiritual one where the practitioner dives deep into the study of the Self and learns to attain a higher level of consciousness"
Elena will cook delicious and balanced meals prepared with local and seasonal ingredients. Elena is a kind soul. She is passionate about conscious and vegan food. She is a dedicated and kind-of-perfectionist chef who wants to ensure everyone enjoys their nutritious meal. Everything is delicious and tasteful.
A magical venue just a few minutes from the ocean and surrounded by beautiful trekkings. We will walk to the beach, meditate and chill in the sand. Both the rooms and the yoga shala have an ocean view.
This beautiful paradise is only 35 minutes away from Lisbon airport and 5 minutes from Ericeira, one of the most famous traditional Portuguese finishing village.
3 nights in Quinta dos Raposeiros, a top-rated place with an ocean view
and a splendid Yoga Shala
All vegetarian meals by Chef Elena, @porteladaginja
Yoga Classes
Meditations
"A New Cycle" | Talk with Diana
Cooking Workshop with Chef Elena
Free-Soul Dance Session
A retreat is one of the best gifts you can give yourself. Enjoy the early bird discount until the 5th of December.
EARLY BIRD | 5% OFF UNTIL 25 NOVEMBER
Bring one person with you and get a discounted price! Exclusive room and bathroom for you.
Bring two people with you and get a discounted price! Exclusive room and bathroom for you.
Large room to ensure you feel comfortable and cosy.
Maximum 3 people per room
An entire room with private bathroom for yourself. Get confy in your magnificent room.
10€ of your registration fee to an institution will be donated to an institution that promotes wellbeing.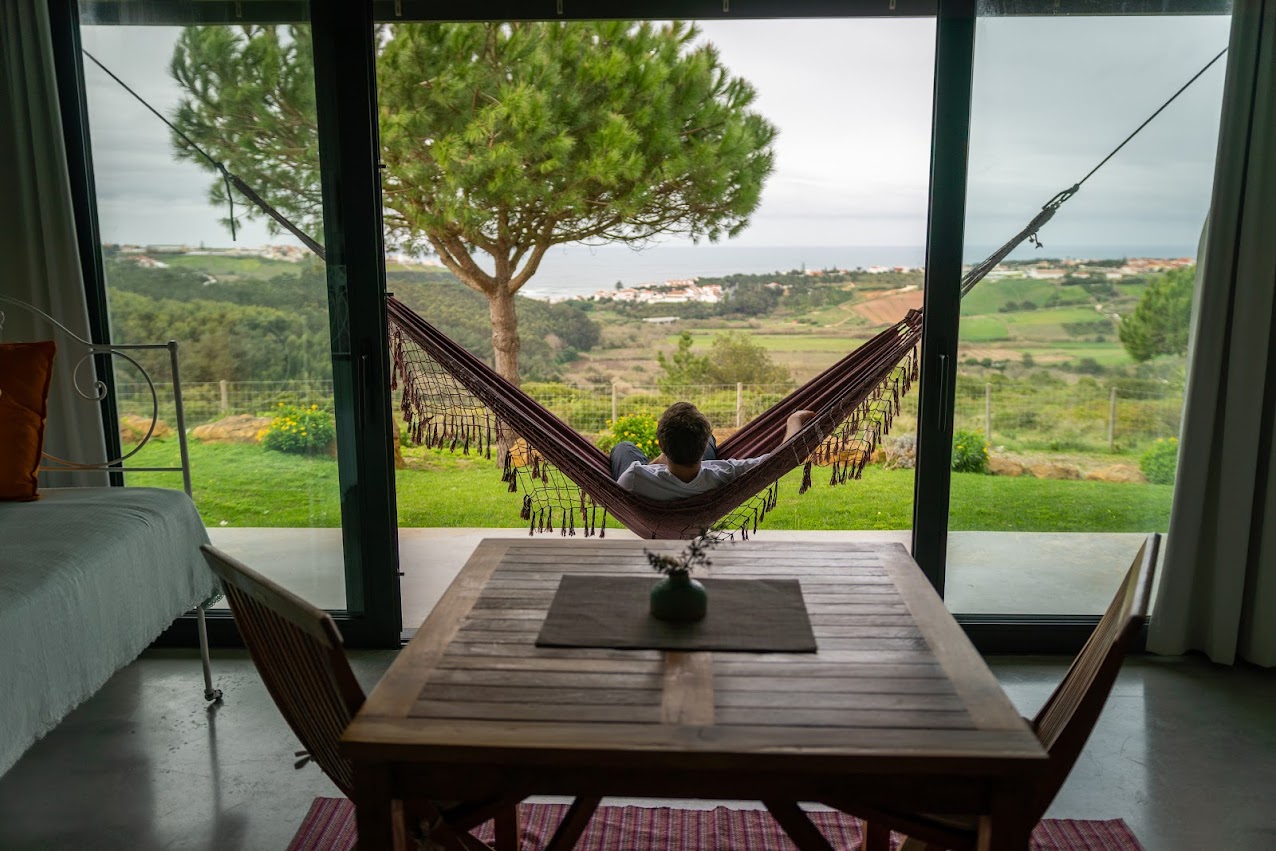 Will you join us on this
journey?
Please note that this retreat is not a substitute for medical or psychological advice, evaluation, or treatment.
Please let us know if you do not find what you are looking for.
Our team is here to help you at namaste@myalfazema.com
Payment plan:

Your spot will be confirmed upon 40% deposit 

The remaining to be settled 1 month after the first payment

We can adjust the payment plan according to your needs. Please contact us and we'll make the necessary adjustments

Payment options
The closest airport is Lisbon airport which is 35min.
A uber/bolt usually costs around 50€. We will do a whatssap group so that you can arrange with other guests.
Transfers from and to the airport are not included in the price, but we can help you. 
5th January: Room Check in: 14:00
8th January: Room Check out: 17:00
—> The retreat officially starts at 18:00 with the mysalutation session followed by the first practice.
—> If you arrive earlier you can drop off your stuff and spend some time at the nearby beach or in Ericeira.
Join this magical experience
If you are interested in joining the retreat or offering it to someone else as a gift voucher, please fill out the form below and we will get back to you soon.
If you do not get a confirmation that your message was sent, please get in touch with us directly at leonor@myalfazema.com. We are sorry for the inconvenience; we are already solving the technical issue.
Clara
2020
I thoroughly enjoyed the retreat. I felt welcome and attended to from the booking, to the arrival and through all of the activities. The staff was warm and attentive and the schedule carefully balanced to allow some downtime and rest between the yoga sessions, meditations and other workshops. I loved it and highly recommend MyAlfazema 💜💜💜
Luana
2022
A unique experience that has to be repeated! 3 days are few to enjoy and retain all the potential that MyAlfazema has to give us 💜
Theresa
2020
At the myalfazema Retreat I managed to find the balance I was looking for so much. I take it with me every day
Rita
2020
This weekend meant a lot to me! I was able to disconnect, have some time for myself and get to know myself more. I met fantastic people who helped me in this process. Thank you for everything 💜