11 - 15 August | Summer Wellbeing Retreat
Each one of us has unique characteristics that can help make the world a better place. Our mission is to create experiences that touch people's lives, helping them on their own journey of growth so they can find and put their talents to service.
myalfazema wants to inspire and make people aware of the importance of wellbeing in both their lives and in building a better world.

Since I was a teenager, there was a powerful voice inside me who kept telling me to go travel, see the world, to put myself in novel and challenging environments where there were no cues as to how to behave or who to be. I was 16 when I adventured myself for the first time and went to Australia for three months. Today, I am lucky enough to have travelled around in more than 40 countries, mostly as a backpacker – either by myself, with friends or people I met on the road. These experiences shaped my personality and opened my eyes to new realities, different cultures and beliefs. I realized how big the world is and started to understand how my mind was conditioned by pre-conceived ideas and rules created by "society".
I studied a BSc in Economics and a MSc in Communications in three different countries, and I worked for more than three years in different industries. All these experiences provided me with valuable skills that I use every day to build myalfazema. However, throughout this time I always felt a bit lost. I was pursuing a career and living a life that was not my own, ignoring my heart while damaging my body with bad habits. After being so lost for so long, I started looking for ways to live a better life. It took me a long time until I realised that the answer was inside me. It was not until I made peace with myself and let go of my constant need to be in control that things started to get better.
In the past few years, I have been intensively working on my personal growth. Honestly, this has not always been easy. 
There were (still are!) many moments of shadow, confusion, and fear. But step by step I started to see and feel the light. I felt at peace with myself, I felt stronger and could think more clearly than ever. More importantly, I started to realize how powerful it is to be a real and authentic person.
All this investment in my personal growth has given me the strength I needed to completely transform my life for the best. To take my passion for wellbeing and mental health to the next level, by quitting a stable job and enrolling in a BSc in Psychology at the University of Amsterdam. I split up my time and energy between schoolwork and building myalfazema, which is my true dream project.
Wellbeing is a journey of growth.

Step by step, we embrace who we truly are. Our fears, our passions, our uniqueness.

It is a path made of challenges. Through light and shadow, we find our way as we go. We go with the flow.

By connecting our mind, body and soul, we feel free to find meaning in our lives and give a part of us to the world.

We find happiness, not only at the end of the journey but in every step of the way.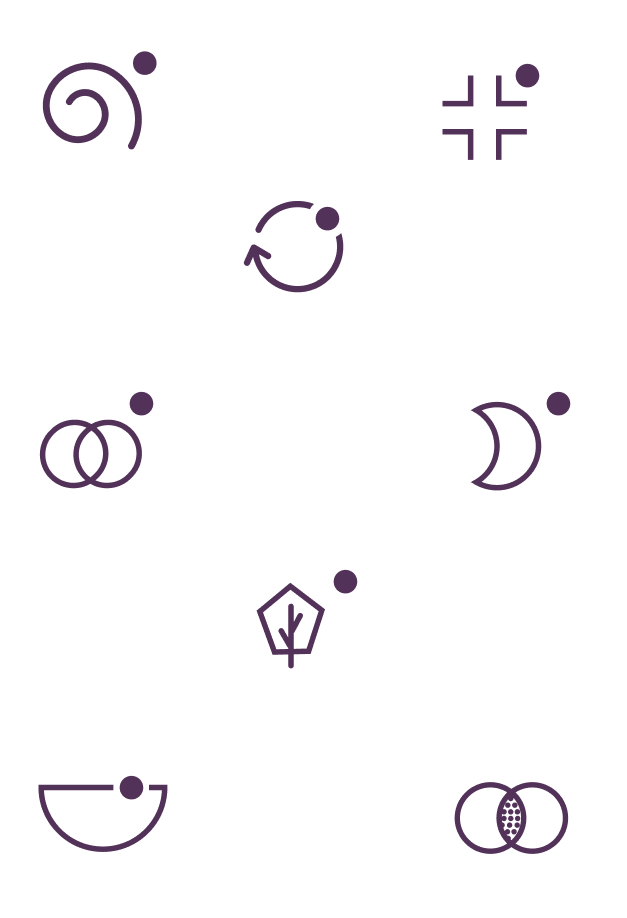 What we believe and pursue in our wellbeing journey
Embracing our nature and flow of life
Embrace who we truly are
Embrace our fears, our personality and uniqueness
Embrace whatever life has in the cards for us
Embrace light and shadow as part of who we are
Connecting our body, mind and soul
Connect with our nature & roots
Connect with our purpose
Connect with society
Connect with our emotions
Following a path of
authenticity
Be free from prejudice and standards
Be free from external actors or circumstances
Live by feeling and trust that things have a way of sorting themselves out
Purple & the five elements of Earth
Our partner yoga teachers are trusted experts but they are not "masters with special powers". They are people like us who are on their own conscious journey of self-awareness and discovery. We partner with them because we want to hear, and be inspired by their life stories, experiences, moments of light and moments of shadow, and learn what they have learnt on the path that led them so far. 
They flexible in their approach and trust the myalfazema journey and intention. They are authentic people who personify true references of wellbeing to create a unique and holistic yoga experience. Our partners have the skills to help you move forward on your own journey. 
An unforgettable vegetarian gastronomic experience with an exclusive Chef
Our aim is to offer not only a wellbeing food experience to you, but also a real taste of vegetarian and local food that empowers you in your journey. In each myalfazema retreat, you will have an exclusive chef who will cook delicious and balanced meals prepared local and seasonal ingredients.
Our Chefs are experienced in serving conscious nutritious and delicious vegetarian or vegan meals, while also offering workshops on how to cook a variety of different dishes.
A myalfazema retreat can be located anywhere as long as it is in a place where we feel close to nature, either in the countryside or by the ocean. The accommodation provides a space to learn, develop and grow by creating an environment where you can catalyse your energies to let go and feel empowered to awaken your mind, body and spirit.
There are spaces suited for the practice of yoga, and beautiful walking trails.. The staff is welcoming and will make you feel at home.